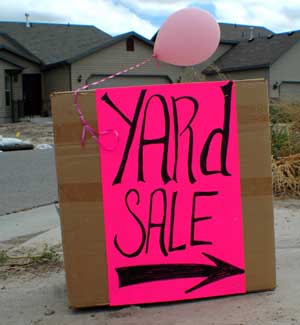 Spring has almost well and truly sprung (although judging by the volume of welly-wearers and inverted brollies here in the UK, you'd never know it!). With the sunshine and cute baby lambs come the impending boom of car-boot sales (that's yard sales to most of you), a tradition which is to me like soil is to the newly blooming flowers. Sort of.
Whilst the mass population flock to high-street retailers in a desperate bid to exchange plastic for summerwear, I on the other hand will be relaxing in the fresh spring air (global warming pending). My bargains will come from charity shops and markets, rather than the Reduced To Clear section of my local River Island.
Not only do you gain the positives of air and exercise whilst indulging in some cheaply priced Mills and Boon titles (not that, y'know, I'd know from personal experience or anything..) but you gain the sheer satisfaction of knowing you're recycling, and in some cases helping a charity or two along the way.
Second-hand shopping is a shopping experience like no other; the feeling of knowing you are helping others can bring a perpetual glow to your cheeks. And if that's not a true bargain, then I don't know what is.
Got any favorite Yard Sale or Bargin Shopping areas? Let us know!
Join us and receive latest news from College Candy.