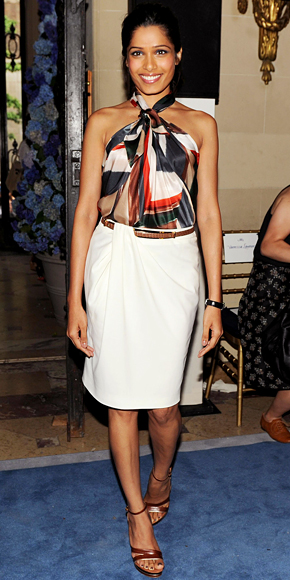 [Welcome to Celebrity Chic on the Cheap, where our style guru takes a celebrity look and breaks it down for you, our poor college fashionista. What does that mean? It means that while the celebrities (like Lake Bell) are spending $5,000 and more on an ensemble, you an spend way less…and save the rest for Margarita Mondays.]
Freida Pinto has been dazzling red carpets since she broke out on the scene a couple of years ago during the promotion of indie hit Slumdog Millionaire. She never ceases to be colorful and youthful, but still sleek, refined and full of elegance. She is set to star in the prequel to Planet of the Apes (alongside deliciously douche-y James Franco), so we will probably be seeing a lot more of her fabulously chic sartorial choices in the upcoming months.
Bebe pencil skirt – $23.99/ Banana Republic silk halter – $44.99/ DSW bronze sandals – $44.95/ Forever 21 bronze leatherette belt -$5.80
Halters are perfect for showing off your figure in a demure, but still sexy and flirtatious way. I love halters that feature abstract and off the wall patterns to add a bit of flare and kookiness. A white pencil skirt should be in every summer intern's wardrobe. It's professional enough for the office, and seamlessly transitions into post-work happy hour drinks with the girls (or the boys). If you choose to tuck in your top, a brown leather belt, like Freida is wearing, is the perfect neutral shade to wear (although you could just as easily go with a silver belt if you're interested in a little more pizzazz). Some bronze sandals add some subtle shine to this look. This is definitely a more formal look, more business than bonfire, but with some tweaks, you could totally find an excuse to rock this Frieda inspired aesthetic.
Join us and receive latest news from College Candy.